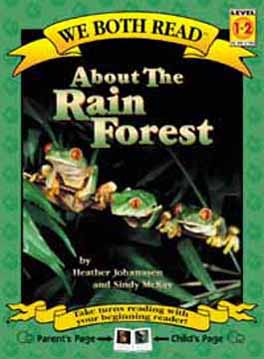 $5.99
About the Rain Forest
Series: We Both Read
Paperback
Nonfiction
Guided Reading Level: H
Grade Level: 1 – 2
by Heather Johanasen & Sindy McKay
Explore the mystery and wonder of the tropical rain forest! Travel around the equator to Africa, Asia, and South America discovering the world's most fascinating plant and animal life. Trees that give us rubber and chocolate, lizards that change color, and a cat that can fish with its tail are just some of the amazing species that you'll find in the dense foliage of the rain forest. Captivating photographs, along with compelling text, make this book an exciting adventure and a great learning experience.
We Both Read Level: 1-2 (Grades 1-2); Guided Reading Level: H
Published by Treasure Bay, Inc.
Price (before discount): $5.99