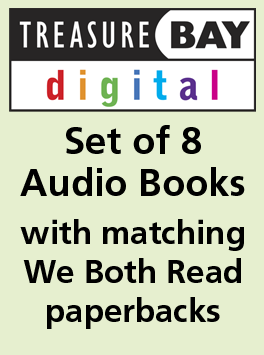 $127.52
Audio Books & Matching Paperbacks Set (8 Titles)
Audio Books
Guided Reading Level: A – H
Grade Level: K – 3
Eight Audio CDs & Eight Matching We Both Read books
Complete Set of We Both Read Audio Books (8 CDs) & Matching We Both Read Paperbacks (8 Titles)!
This set includes the following We Both Read titles:
My Day, Too Many Cats (bilingual), We All Sleep, About Dogs, The Well-Mannered Monster, Amazing Eggs, About the Rain Forest, and Sharks!
These audio books are particularly helpful for ELL / ESL students and for use with the printed books in the classroom.
Price (before discount): $119.52