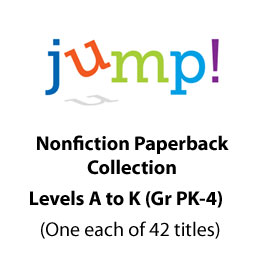 $

293.58
Jump! Nonfiction Collection (1 each of all 42 titles)
Jump! Paperback Collection
Nonfiction
Guided Reading Levels: A-K
Grade Levels: PK-4
Go to view sample books and pages.
Jump! Nonfiction Paperback Collection (42 Titles)
This high-interest nonfiction series of leveled readers is designed to support students who are reading on level or below level. The vibrant photographs and carefully leveled text, along with exciting age-appropriate subjects, will help young readers develop greater confidence and interest in reading.
Each book includes before and after reading activities for parents and students to do together, as well as glossaries, TOC, and indexes. Guided reading level and ATOS information is included on the back cover.
Jump – Tadpole Collection – Levels A to C – for Grades PK-1. 1 each of 14 titles (each paperback title 16 pages in color)
Jump – Bullfrog Collection – Levels D-F – for Grades K-2. 1 each of 14 titles (each paperback title 24 pages in color)
Jump – Pogo Collection – Levels J-K – for Grades 2-4. 1 each of 14 titles (each paperback title 24 pages in color)
The Jump! Nonfiction Collection includes 1 each of all of the following titles:
Tadpole Collection (1 each of 14 titles):
Who Helps Us Learn?
Who Helps Animals?
Who Lives in the Desert?
Who Lives in the Ocean?
Who Lives in a Lake?
Patterns in Summer
Patterns in Fall
Patterns in Spring
Patterns in Winter
School
I See Birds
I See Insects
Wet and Dry
Fast and Slow
Bullfrog Collection (1 each of 14 titles):
Construction Workers
Veterinarians
Police Officers
Different Cultures
Resisting Bullying
Showing Kindness
Showing Perseverance
Cats
Dentists
Seeds
Farm
Teachers
Coral Reefs
Honeybees
Pogo Collection (1 each of 14 titles):
Roller Coasters
Tsunamis
Bridges
Earthquakes
Skyscrapers
Hurricanes
Ocean Food Chains
How Is It Made: Ice Cream
How Is It Made: Crayons
How Is It Made: Paper
How Is It Made: Peanut Butter
Rain Forest Food Chains
Airplanes
Helicopters
Price (before discount): $293.58