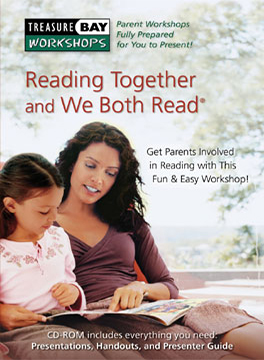 $

69.95
Workshop – Reading Together & We Both Read-CD with AUTO-PLAY
Series: Parent Workshops
E-Book
NEW Workshop! AUTO-PLAY Mode
by Bruce Johnson
Workshop includes 2 sections, which can be used as 2 mini-workshops or one longer workshop.
This version of the Reading Together and We Both Read workshop includes AUTO-PLAY mode: simply start the Powerpoint and it will play through the entire presentation, including professional audio and video. Nothing could be easier!
*** Upon purchase, you will be sent a link to download the Auto-Play version, as well as a CD-ROM with the other versions of the workshop. ***
Parent Workshops – Fully prepared for you to present!
This workshop will motivate parents to get more involved in reading with their children and teach them skills they can use to maximize the benefits of reading together. It includes two sections, approximately 45-60 minutes each.
The first section of the workshop (which can be used as a standalone mini-workshop) covers the best practices in reading together. Parents will learn why reading together is important, three styles of reading together (choral reading, echo reading, and shared reading), skills to use when reading to their child, and skills to use when their child is reading to them.
The second section of the workshop (which is also included as a standalone mini-workshop) covers books specifically designed for reading together, focusing primarily on use of the We Both Read series. This section includes information on how to maximize the benefits of using We Both Read and offers participants an opportunity to practice using the books.
Purchase of this CD-ROM includes a school-wide site license to modify and present the workshops.
Price (before discount): $69.95