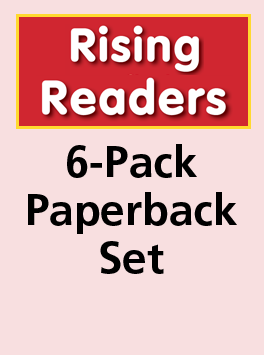 $1,944.00
*6-Pack of Rising Readers Nonfiction Series (6 each of 72 titles)
Paperback
Nonfiction
Guided Reading Level: A – I
Grade Level: PK – 2
100% Common Core Aligned
Rising Readers Nonfiction Leveled Books
Six Complete Sets of 72 Titles (432 titles total)
Ideal for use at school or at home – each book includes simple instructions and activities for parent involvement.
Each set of 72 titles includes:
24 Math Titles – Increase literacy skills while learning about shapes, patterns, counting, time, addition, estimation, and more.
24 Science Titles – Enrich learning in Life Science, Earth Science, and Physical Science.
24 Social Science Titles – Build real-world connections to maps, citizenship, economics, geography, families, and more.
* 16 pages each, full-color 7 5/8″ x 6 1/2″
* Grades PK – 2 (Guided Reading Levels A-I)
* 100% Common Core Aligned
Price (before discount): $1,944.00