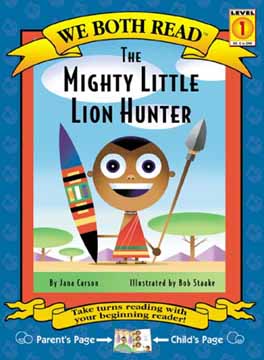 $5.99
The Mighty Little Lion Hunter
Series: We Both Read
Paperback
Fiction
Guided Reading Level: E
Grade Level: K – 1
by Jana Carson
illustrated by Bob Staake
A young boy, Kibu, lives in Africa and is a member of the Masai tribe. When Kibu is told he is too small to go on the lion hunt, he decides to prove that he too can be a mighty lion hunter. With a basket of food from his mother, he sets out into the African wilderness to find the biggest lion of all, Father Lion. With the help of animal friends he meets along the way, Kibu hopes to outsmart Father Lion and return victorious.
We Both Read Level: 1 (Grade 1); Guided Reading Level: E
Published by Treasure Bay, Inc.
Price (before discount): $5.99