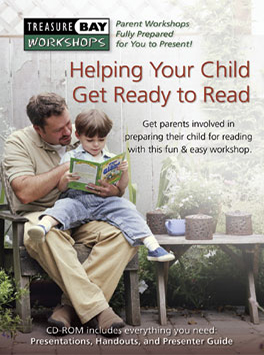 $

49.95
Workshop-Helping Your Child Get Ready to Read (CD)
Series: Parent Workshops
E-Book
By Bruce Johnson
The CD-ROM includes the Presentations, Handouts, and Presenter's Guide!
Specifically tailored for pre-readers!
Parent Workshops – Fully prepared for you to present!
This workshop is designed to let parents know what they can do to help their children be better prepared for reading. An ideal time to present this workshop is in the first half of kindergarten or before formal reading instruction begins.
Presentations are provided in two formats: Powerpoint for slides and PDF for overheads.
The first section of the workshop focuses on reading to your child, as well as fun activities to do with your child to help develop phonemic awareness. The workshop not only shows how important it is to read to your child but also covers how parents can maximize the benefits for their child.
The second section of the workshop includes fun activities to help your child learn the names and sounds of the letters in the alphabet. It also includes how parents can begin to introduce reading together activities, even with children who are pre-readers.
Purchase of this CD-ROM includes a school-wide site license to modify and present the workshops.
Price (before discount): $49.95