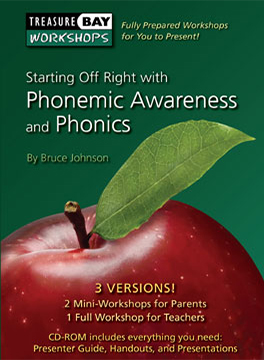 $

49.95
Workshop-Phonemic Awareness and Phonics (CD)
Series: Parent Workshops
E-Book
By Bruce Johnson
Two Mini-Workshops for Parents
One Workshop for Teachers
Fully prepared workshops for you to present!
The workshop CD-ROM includes everything you need to present a great workshop:
Presenter Guide, Handouts, and Presentations.
All three versions of this workshop focus on the phonemic awareness and phonics skills that children need to learn, and they present fun activities that parents and children can do to help develop those skills.
Included are two 1 to 2 hour workshops for parents: one is focused on phonemic awareness and the other is focused on phonics. Both are designed for parents of children Pre-K through Grade 2, as well as for parents of struggling readers. These parent workshops complement use of Treasure Bay's We Read Phonics books.
The full teacher workshop Presentation is approximately 4 to 6 hours long and is designed for teachers of Pre-K to Grade 2, as well as for tutors and teachers with struggling readers. The teacher's version of the workshop includes a scope and sequence chart and a skills assesment tool.
Purchase of this workshop includes a district-wide license to present the workshops.
Price (before discount): $49.95