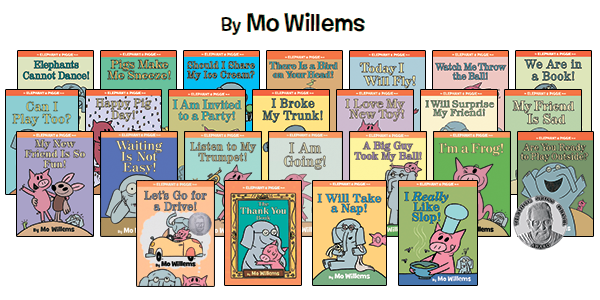 We guarantee your students will love reading these books—even your reluctant and struggling readers. The series is perfect for independent reading as well as reading together with a buddy, a tutor, or a parent. The books feature hilarious conversations between two characters, Elephant and Piggie. Two readers can easily take turns reading: each reader simply reads the part of one of the two characters. These books are all Guided Reading: Level F.
The Elephant and Piggie books are all written and illustrated by Mo Willems, the author of Don't Let the Pigeon Drive the Bus and winner of three Caldecott Honor Awards. He has also twice won the Theodor Seuss Geisel Medal, honoring the year's best beginning reader title, for his Elephant and Piggie books.
---
SHOP NOW for the Elephant and Piggie Series
New Low Price!
Prices:
This series is not available
in paperback.
All Books in the Series
Trim size: 6.5"x 9"
56 pages in full color
Binding: Smyth Sewn
Hardcover
Available only from Treasure Bay! Download a free reproducible flyer you can send home to parents on how to maximize the benefits of reading the Elephant and Piggie books together.
Just go online to www.TreasureBayBooks.com/elephant.pdf
"These books will easily take their place alongside Seuss and Eastman as classics in the beginning-reader genre."
The Bulletin of the Center for Children's Books (Starred Review)
"The Elephant and Piggie books FLY out of my classroom for home reading and are in great demand at the reading table—better than Seuss for high interest. I've been teaching K–2 for 32 years and haven't seen this kind of excitement over a book series for very young readers. Mo Willems is a teacher's dream come true!"
C. Brainerd