Title
I

Resources for Parent Involvement & Struggling Readers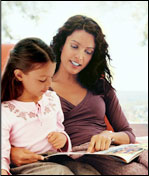 Treasure Bay is the leader in providing schools and Title I programs with books and materials that support parent involvement in reading. Something as simple as parents and children reading together can have a significant impact on educational outcomes. Our books maximize this involvement by making it fun for parents to get involved and easy for them to support their children's reading.
Most schools provide sets of our books for each classroom, and teachers send the books home for students to read with their parents. Research-confirmed results include significantly improved reading scores, as well as students who are more excited about reading and engaged in learning.
Here are our series which are best choices for Title

I

Programs:
To learn about all the series we have available, please visit our Series & Collections page.
We have many books and materials to support Title I students from Kindergarten through 8th grade. However, Treasure Bay is best known for We Both Read, a research-based series of supplemental fiction and nonfiction books that is used for both in-school and at-home reading. Featuring a fun interactive format, this series is incredibly successful at engaging parents and students in reading together—and the series is particularly effective at engaging reluctant and struggling readers.
"My Title

I

Library is open for use by all of the Kindergarten, First, and Second grade children. They enjoyed your "We Both Read" books so much that they went up to our principal and asked him to let me order second copies! These books are always the first to go!" – Marilyn Horinek, Atwood Unified School Dist., Atwood, KS
A large research study on We Both Read has confirmed the success of these books in improving fluency and reading scores. When compared to other books for at-home reading, the use of We Both Read books resulted in significantly greater improvements in fluency, scoring almost triple the average increase on the DIBELS Oral Reading Fluency test. (For more information on this research, click here.)

The We Both Read books are so highly effective because they engage both children and parents in reading—and make it easy for them to be successful. The concept of the series is simple: each book is specially formatted for a parent and child to take turns reading aloud alternate pages. The parent's pages feature higher level text (at about a 5th grade reading level), while the child's pages feature text that matches the child's reading level. This shared experience reduces the frustrations of beginning and struggling readers—and makes reading fun! Children get to practice reading at their skill level and they also have the opportunity to relax and listen as the fluent reading of more complex text is modeled for them. The result is increased comprehension, fluency, and support for their decoding skills, along with increased enthusiasm for reading.
"These are fantastic books! I am not sure I can count all the ways we use We Both Read books. The students love them!" – Mrs. Carolyn Harms, Title

I

Reading Specialist, Henry County School District, Windsor, MO
In addition to placement in classroom libraries, some schools provide our books to students and parents to help supplement or begin a home library. The books are often provided for Summer Reading Programs. Plus, our books have proven to be highly effective when used in schools for RTI, tutored reading and buddy reading programs.
"You have helped many of our children to LOVE reading and we can't get enough of them! Our parents are thrilled with the progress they see in their children's reading, especially their comprehension and interest." – Marguerite DeSanctis, Episcopal Academy, Devon, PA
Full-Year Guarantee
Treasure Bay provides a full-year guarantee on all of our books and materials. If at any point during the year you are not satisfied with the books for any reason, you may return them for a full refund.
To view or request Free Samples of our books and materials, please click here.
Parent and Family Engagement in Reading Doing It Early, Effectively, and Easily
This 30-minute presentation was given by the President of Treasure Bay at a National Title I Conference. Please consider sharing this video with parents and educators at your school. Here is a link to this video:
Easy to Order
If you already know what you would like to order, the fastest and easiest way to put together an order is with our Quick Order Form. It lists every item we have available, so you can simply fill in the quantities you would like to order. The form will calculate all your costs, including any discounts. You can then print the form and attach it to your P.O. or click to add your selections to your shopping cart.
If you are an individual, you can order on this site using your credit card. Schools and libraries can use this site and pay by credit card or request to be invoiced. Normal purchase orders are also accepted via mail or fax from schools and libraries. Click here to open and print a blank order form.
Shipping within U.S. only. Minimum order on this site is $35.