The sports themes in these exciting high-interest chapter books will captivate many of your most reluctant readers! This easy-to-read series features low reading levels (GRL M-P), but the stories will interest a wide range of students from grades 2 to 6—particularly those who love sports!
Each book features a girl or boy in a contemporary, true-to-life plot that emphasizes persistence, courage, and fair play. The boys and girls in these stories face obstacles in their sports, as well as mental and social challenges. Both boys and girls will identify with the characters' struggles and be inspired by their ultimate triumphs.
Show Now for Jake Maddox Sports Stories Series
Jake Maddox
Boy Sports Stories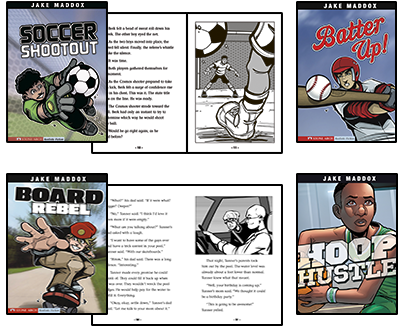 29 Boy Sports Titles
for Grades 2 to 6 (GRL M-P)
Free Throw
Board Rebel
Hoop Hustle
Batter Up!
BMX Bully
Go-Kart Rush
Free Climb
Face-Off
Takedown
Paintball Blast
On the Line
Behind the Plate
Skate Park Challenge
Touchdown Triumph
Soccer Shake-Up
BMX Challenge
Motocross Double-Cross
Soccer Shootout
Mr. Strike Out
Snowboard Duel
Point Guard Prank
Lacrosse Attack
Quarterback Sneak
Caught Stealing
Beach Bully
Legend of the Lure
Skateboard Save
Kart Competition
Home-Field Football
Jake Maddox
Girl Sports Stories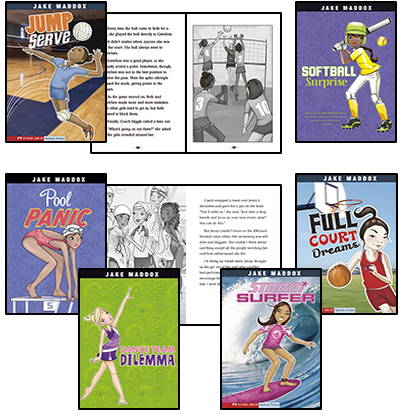 19 Girl Sports Titles
for Grades 2 to 6 (GRL M-P)
Pool Panic
Full Court Dreams
Cheer Challenge
Jump Serve
Softball Surprise
Soccer Surprise
Storm Surfer
Horseback Hurdles
Soccer Show-Off
Dance Team Dilemma
Skating Showdown
Volleyball Dreams
Running Scared
Longboard Letdown
Rebound Time
Gymnastics Jitters
Volleyball Victory
Digging Deep
Striker's Sister
Prices:
Not available by individual title. If a title in a set is out of stock, we will substitute a title with a similar reading level.
Book Specifications: 72 pages in B&W; Size: 5.25" x 7.5"