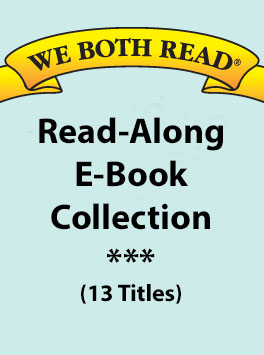 $495.00
We Both Read – Read-Along E-Books (13 Titles)
Read-Along E-Book Set of 13 Titles – We Both Read Books 
Grades PK – 3
Guided Reading Levels A – L
These Read-Along E-books can play an audio recording of the book, and students can easily follow along in the e-book since words are highlighted in sync with the audio. These e-books will help support beginning and struggling readers, since students can listen to the entire book or pause the recording to read the pages that are designed for their reading level.
If you already have an account with Mackin or OverDrive, it may be best to obtain our Read-Along e-books through that company. Alternatively, you can buy a perpetual license directly from us. However, we only recommend buying directly from us if you use Apple iPads or Apple computers at your school, and if you have a computer tech at your school who can help transferring the books to the libraries for the iBook or Book app on your Apple devices. Our perpetual license is good for all students at one school or one library.
Mackin and OverDrive offer our e-books individually. If you purchase directly from us, you will receive a download link for all 13 e-books. Please note that this download is over 500 meg and will require a relatively fast internet connection. Limit of 10 downloads over 6 months. Once downloaded, the license is perpetual for one school.
The E-Book set includes the following titles:
Dragons Do Not Share (PK-K)
Too Many Cats (PK-K)
Big Cats, Little Cats (PK-K)
Riddle Rhymes (PK-K)
Lulu's Lost Shoes (K-1)
We All Sleep (K-1)
About Pets (1)
The Well Mannered Monster (1)
Habitats of the World (1)
The Ocean (1-2)
My Sitter Is a T-Rex (1-2)
Ben and Becky in the Haunted House (2)
A Day on the International Space Station (2)
Not available by individual title.