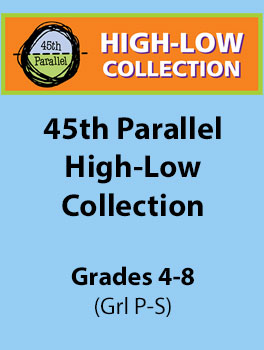 $318.40
45th Parallel High-Low Collection-Grades 4-8 (32 titles)
45th Parallel High-Low Collection – Set of 32 Titles
Designed for Grades 4-8 – with Text at a 3rd Grade Reading Level
Guided Reading Levels: P-S
Paperback
Set includes 1 each of 32 titles
45th Parallel Press is a leader in high-low books for struggling readers, and we have chosen their best and most popular books to create this superb collection for students reading below grade level.
The books cover high-interest nonfiction topics such as Top 10 Animal Stinkers, Debunking Conspiracy Theories, and Weird Science in movies. Guided reading levels range from P through S, though the text is easier to read than these levels indicate.
These high-low books are all written by curriculum specialists with an eye toward making the text engaging and accessible for struggling readers. The books all use short sentences, short chapters, and carefully controlled vocabulary (with explanations of uncommon words cleverly embedded within the text). The books also use photographs and a modern youth-oriented graphic design to help with appeal and comprehension.
Titles all include a table of contents, and index, a glossary, and questions to think about after reading.
Price (before discount): $139.50