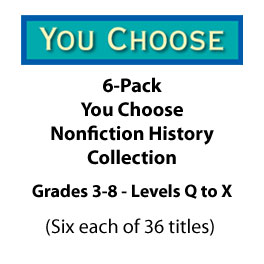 $1,501.20
6-Pack – You Choose – Nonfiction History Collection (216 Titles)
Paperback
Nonfiction
Guided Reading Levels: Q-X
Grade Levels: 3 – 8
Go to view sample books and pages.
Six-Pack of You Choose Nonfiction History Collection (Includes 6 each of 36 titles – 216 total)
Interactive Adventures that Bring History to Life!
Students can jump right in to real history with each of these well-researched books. Each title brings to life an era or event in history. At the beginning of each book, readers choose one of three people who participated in that part of history. As that person, readers choose what to do and where to go throughout the book. The You Choose format creates a powerful experiences for readers, as they face the challenges and decisions that people encountered at pivotal moments in history.
There are many paths and endings in each book. Choices that readers make often determine whether the person they have chosen will succeed or fail, live or die. The intense action will rivet readers from grades 3 to 8. Even reluctant readers will be caught up in history and learn more than they realize about events that have helped to shape the world we live in today. Along the way, students will also learn how the choices people make can affect the lives of so many others. 
Titles in Collection:
Levels Q to T:
Race to the Moon
Sinking of the Lusitania
Vietnam War
The Berlin Wall
Child Labor Reform Movement
Ellis Island
Korean War
Ancient Egypt
Aztec Empire
World War II Infantrymen
Boston Massacre
California Gold Rush
Dust Bowl
Titanic
Underground Railroad
World War II Pilots
World War II Spies
Ancient China
Levels U to X:
Colonial America
Exploring the New World
Great Depression
Orphan Trains
Salem Witch Trials
World War I
Attack on Pearl Harbor
Civil War
World War II Naval Forces
World War II
Civil Rights Movement
Middle Ages
Revolutionary War
Westward Expansion
Spies of the American Revolution
Battle of the Revolutionary War
Battle of the Alamo
Spies of the Civil War
Price (before discount): $1501.10