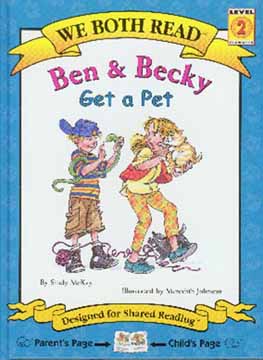 $5.99
Ben & Becky Get a Pet
Series: We Both Read
Paperback
Fiction
Guided Reading Level: K
Grade Level: 2 – 3
by Sindy McKay
llustrated by Meredith Johnson
Ben and Becky finally convince their parents to let them have a pet. Becky wants to get a kitten, but Ben wants to get a snake. They go with their father to pick out a pet at the pet store and cause hilarious excitement when they accidentally let a snake loose in the mall!
We Both Read Level: 2 (Grade 2); Guided Reading Level: K
Published by Treasure Bay, Inc.
Price (before discount): $5.99