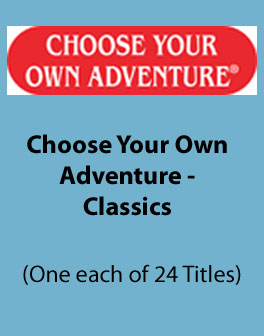 $191.76
Choose Your Own Adventure Collection – Classics – Paperback Set (24 titles)
Paperback
Fiction
Guided Reading Levels: R to T
Grade Levels: 3 – 5
Choose Your Own Adventure – Dragonlarks Collection – Levels R to T – Paperback Set for Grades 3 – 5. One each of 24 titles.
(144 pages each in B&W with illustrations)
Excite your students about reading with interactive adventures that
will engage the entire family! The Choose Your Own Adventure series has a long history of engaging reluctant readers. Plus, a recent research study has shown these books significantly increase reading interest, comprehension, and fluency.
Each title is interactive, making the reader the hero of the story. There are multiple storyline paths and choices for readers to make throughout the book, and the readers get to choose their paths and how each story turns out. The books are perfect for parents and children to read together, as they laugh and discuss which paths would be the best ones to take. And with many different paths and endings, your students will want to read each book again and again.
24 Classic Titles in Set:
Mystery of the Maya
Escape
Lost on the Amazon
Trouble on Planet Earth
The Abominable Snowman
Journey Under the Sea
Space and Beyond
The Lost Jewels of Nabooti
House of Danger
Race Forever
Prisoner of the Ant People
War with the Evil Power Master
Silver Wings
Beyond Escape!
Secret of the Ninja
The Brilliant Dr. Wogan
Return to Atlantis
Struggle Down Under
Terror on the Titanic
Moon Quest
The Magic of the Unicorn
Surf Monkeys
By Balloon to the Sahara
Smoke Jumpers
Price (before discounts) is based on list price of $6.99 to $7.99 per book.