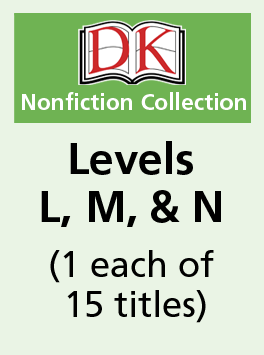 $82.35
DK Readers – Levels L, M, & N (1 each of 15 titles)
Paperback
Nonfiction
Guided Reading Level: L – N
Grade Level: 2 – 4
DK READERS Nonfiction Paperback Set of 15 Titles for Levels L, M, & N (Grades 2, 3, & 4)
This is a specially curated collection of one of the most popular series of nonfiction readers. Each title has been specifically identified as popular with students and ideal for classroom libraries (none of the books are based on a toy, comic book, TV show, or movie).
Treasure Bay Exclusive: Each book in this collection is stickered on the back cover with the Guided Reading Level, making it easy to choose books for the reading skill of each student.
* Appropriate for both in-school and at-home reading
* Appropriate for both independent reading and for a parent and a child to read together
* This particular set includes 15 titles from Guided Reading Levels L through N.
* Other DK Reader sets are available at various ranges of reading levels.
* If a title is out-of-stock, we will substitute another title from this series at the same reading level.
15 Titles for Levels L, M, & N
Eruption: The Story of Volcanoes
Astronauts Living in Space
Twisters
Fire Fighter
Journey of a Humpback Whale
Amazing Buildings
Titanic: the Disaster that Shocked the World
Spiders' Secrets
Bermuda Triangle
Shark Attack
Abraham Lincoln
George Washington
The Story of Anne Frank
Space Heroes: Amazing Astronauts
Plants Bite Back
Price (before discount): $82.35