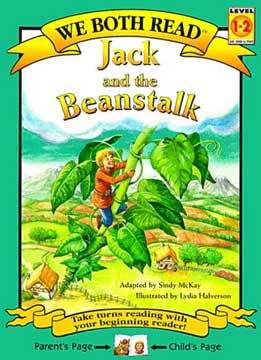 $5.99
Jack and the Beanstalk
Series: We Both Read
Paperback
Fiction
Guided Reading Level: I
Grade Level: 1 – 2
Adapted by Sindy McKay
illustrated by Lydia Halverson
This lively retelling of the classic story is filled with humor and excitement. Much to his mother's dismay, Jack trades their only cow for five beans. But from these beans grows a magic beanstalk, which Jack climbs up to confront a fearsome giant. Jack must outwit and outrun the giant to reclaim his family's golden treasures!
We Both Read Level: 1-2 (Grades 1-2); Guided Reading Level: I
Published by Treasure Bay, Inc.
Price (before discount): $5.99