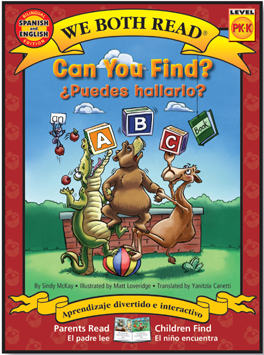 $5.99
Can You Find? / Puedes hallarlo?
Series: We Both Read – Spa/Eng Bilingual
Paperback
Nonfiction
Guided Reading Level: A
Grade Level: PK – K
By Sindy McKay
Illustrated by Matt Loveridge
This We Both Read Bilingual English/Spanish title offers a lot of fun and humor as children learn to identify the letters of the alphabet and the sounds those letters make. Throughout the book, children search for letters in the illustrations, along with various objects and animals that begin with the sound of that letter. This book will help to build the foundation for reading.
Price (before discount): $5.99