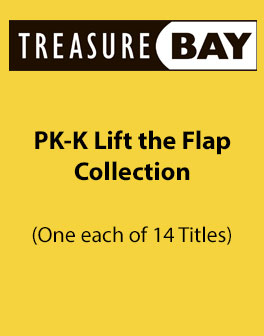 $194.86
PK-K Lift the Flap Collection – (14 titles)
Lift-the-Flap Board Books
Nonfiction
Guided Reading Levels: A to AA
Grade Levels: PK – K
Go to view sample books and pages.
PK-K Lift-the-Flap Collection – Levels A to AA – for Grades PK – K. One each of 14 titles (each title 12-16 pages in color).
The PK-K Lift-the-Flap collection focuses on kindergarten readiness skills. The books in this collection are designed to foster interaction and discussion with pre-readers and beginning readers. The collection can be particularly helpful to engage reluctant readers with books and text.
8 Titles in Set:
Color
First Math
Numbers
Opposites
How Do Flowers Grow?
What Makes Rain?
The Sea
Space
What Is Snow?
Why Do We Need Bees?
How Do Animals Talk?
What Are Germs?
Why Should I Brush My Teeth?
How a Plane Works
Not available by individual title.