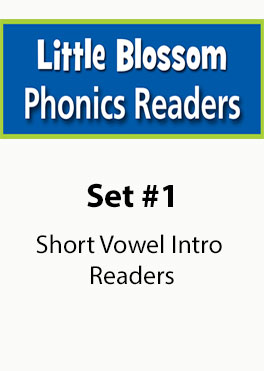 $95.40
Set #1-Little Blossom Phonics Readers (12 titles)
Little Blossom Phonics Readers
Set #1 – Short Vowel Intro Readers
A Comprehensive Series of Decodable Readers in Sequential Sets
*Ideal for Use in the Classroom and Reading Practice at Home
Grades K-2
Paperback, 16 pages in color
Set includes 1 each of 12 titles
This large and superbly written series of phonics readers was created by Dr. Cecilia Minden, the former director of the Language and Literacy Program at the Harvard Graduate School of Education. It has been vetted and acclaimed by numerous reading experts, including Lucy Calkins.
Phonics is one of the main components in the science of reading, and phonics practice using short books can be very helpful for students. However, most books for beginning readers are not specifically designed with decodable text. These Little Blossom books are not only designed to be decodable (with progressive sight word support), but they all contain real stories with engaging illustrations that students will enjoy reading. The books are also short enough for students to bring home and read multiple times with the parents.
Treasure Bay now provides this series in a sequenced progression from Short Vowel Intro Readers through Ambiguous Vowel Combinations. Every book in these exclusive collections is stickered on the back with a set number and color, making it easy for teachers and students to select books at specific levels of decoding skills. Each sticker also includes short information on the phonics skills the book is designed to support.
We have nine sets of Little Blossom Phonics Readers available with a total of 102 titles. Each 16-page book contains an engaging 12-page story. Each book also includes a page with lists of words used in the book, usually categorized by sight words, words by vowel patterns, and words with blends and digraphs.
Price (before discount): $95.40