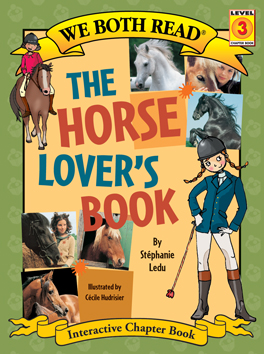 $5.99
The Horse Lover's Book
Series: We Both Read
Paperback
Nonfiction
Guided Reading Level: N, P
Grade Level: 3 – 5
by Stephanie Ledu
Illustrated by Cecile Hudrisier
Here's an exsciting chapter book that will get girls reading non-fiction! It features a highly appealing magazine-style format with fun illustrations and exciting photos of horses from around the world. The book includes everything a young reader could want to know about horses, including information on various breeds, how to care for horses, the different ways to ride, how horses communicate, and much much more! Plus, best of all, with the We Both Read format, this is a perfect book for young girls to share with their friends!
We Both Read Level: 3 (Grades 3-5); Guided Reading Level: P (Reader 1); Level: N (Reader 2)
Published by Treasure Bay, Inc.
Price (before discount): $5.99