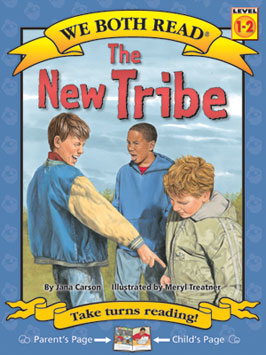 $5.99
The New Tribe
Series: We Both Read
Paperback
Fiction
Guided Reading Level: I
Grade Level: K – 1
By Jana Carson
illustrated by Meryl Treatner
This title is now called "The New Tribe", although it is the same book as "Stop Teasing Taylor."
Otis is very upset when his best friend, Taylor, is teased and called a "cry baby" by the other kids on the playground. Otis and Taylor's teacher intervenes and helps the children in her class understand how teasing affects others. Then she introduces an activity in which her class creates a "tribe of the Tree People". Once a week, the class "tribe" gathers in a circle, where the students give compliments, recognition and encouragement to each other. Stop Teasing Taylor! is a beautifully told story that will offer inspiration to children, parents and teachers by demonstrating a proactive approach to dealing with the common, and often devastating, problem of childhood teasing.
We Both Read Level: 1-2 (Grade 1-2); Guided Reading Level: I
Published by Treasure Bay, Inc.
Price (before discount): $5.99