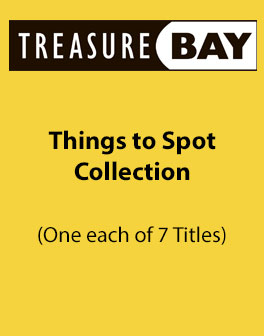 $64.96
Things to Spot Collection – Grade 2 (7 titles)
Things to Spot Collection
Nonfiction
Guided Reading Levels: A to J
Grade Levels: K-2
Go to view sample books and pages.
Things to Spot Collection – Levels A to J – for Grades K – 2. One each of 7 titles (each title 32 pages in color).
The Thing to Spot Collection engages families with interesting nonfiction topics. The books in this collection are designed to foster interaction and discussion with pre-readers and beginning readers. The collection can be particularly helpful to engage reluctant readers with books and text.
7 Titles in Set:
Animals to Spot
Bugs to Spot
Things to Spot in the Sea
Things to Spot in Fairyland
Look and Find in the Forest
Look and Find Dinosaurs
Look and find at the Zoo
Not available by individual title.