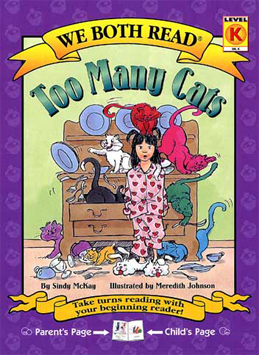 $5.99
Too Many Cats
Series: We Both Read
Paperback
Fiction
Guided Reading Level: A
Grade Level: PK – K
by Sindy McKay
illustrated by Meredith Johnson
Suzu has asked for a white cat for her birthday. Now, on the night before her birthday, she begins to find cats all over the house – most of them in very unusual colors! Suzu loves cats, but now she has too many! Focusing on reading the names for colors and the numbers from one to ten, this Level K book is designed for the child who is just being introduced to reading.
We Both Read Level: K (Grade K); Guided Reading Level: A
Published by Treasure Bay, Inc.
Price (before discount): $5.99