The Blastoff! Hi-Lo Readers are carefully leveled nonfiction books designed to guide beginning and struggling readers through each stage of their journey toward fluency. Bold graphic designs help grab and hold interest, and each progressive reading level in the series helps to build new literacy skills.
We have two collections of Blastoff! Nonfiction Readers: one at Guided Reading Levels E-J for grades K to 3; and one at Guided Reading Levels K-P for grades 2 to 5. While the books are designed primarily for beginning readers, the length, content, and subject matter also make them ideal as Hi-Lo books for struggling readers through 5th grade.
Show Now for Blastoff! Hi-Lo Leveled Readers Collections
24 Nonfiction Titles for Gr. K-3 (GRL E-J)
Fire Trucks
Big Rigs
Sharks
Honey Bees
Kittens
Cows
Puppies
Squids
Mealworms
Ants
Sea Horses
Grasshoppers
Beetles
Fireflies
Mail Carriers
Teachers
I Am a Good Citizen
I Am Responsible
I Am Kind
I Am Respectful
I Am Honest
The Statue of Liberty
Wind
Rain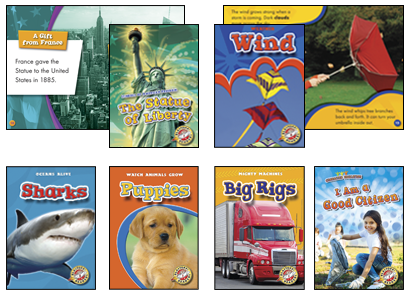 24 Nonfiction Titles for Gr. 2-5 (GRL K-P)
Severe Weather
Cloud Cover
Lightning
Precipitation
Hurricanes
Blizzards
Droughts
Tsunamis
Ice Storms
Forecasts
Glaciers
Coding in Video Games
Coding in the Internet
Saving Money
Counting Money
Life Cycle of a Lady Bug
Life Cycle of a Penguin
Gray Wolves
Red Foxes
Humpback Whales
Life Cycle of a Frog
Life in a Coral Reef
Great White Sharks
Jellyfish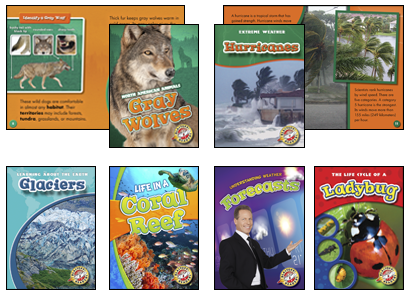 Prices:
Not available by individual title. If a title is out of stock, we will substitute another title from the same series.
Book Specifications:
Paperback (Perfect bound); 24 pages in full color; Size: 6.5" x 9"