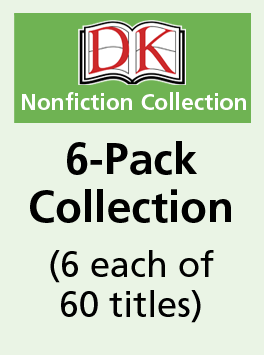 $1,976.40
6-Pack DK Readers Collection (6 each of 60 titles)
Paperback
Nonfiction
Guided Reading Level: D – R
Grade Level: K – 5
6-PACK of DK READERS – Nonfiction Paperback Collection (360 Titles)
This is a specially curated collection of one of the most popular series of nonfiction readers for grades K – 5. Each title has been specifically identified as popular with students and ideal for classroom libraries (none of the books are based on a toy, comic book, TV show, or movie).
Treasure Bay Exclusive: Each book in this collection is stickered on the back cover with the Guided Reading Level, making it easy to choose books for the reading skill of each student.
Appropriate for both in-school and at-home reading
Appropriate for both independent reading and for a parent and a child to read together
This 6-PACK includes 6 each of 60 titles from Guided Reading Levels D through R.
Other DK Reader sets are available at various ranges of reading levels.
If a title is out-of-stock, we will substitute another title from this series at the same reading level.
LISTS OF TITLES:
60 Titles for Levels D, E, F, & G (6 each of 15 titles):
Farm Animals
Garden Friends
Petting Zoo
In the Park
Meet the Dinosaurs
Fishy Tales
Big Trucks
Weather
Nighttime Animals
Snakes Slither Hiss
Ponies & Horses
Born to Be a Butterfly
Busy Buzzy Bee
Day at Greenhill Farm
Duckling Days
60 Titles for Levels H, I, J, & K (6 each of 15 titles):
Diving Dolphin
A Day in the Life of a Firefighter
Tale of a Tadpole
Dinosaur's Day
Big Machines
A Day in the Life of a Police Officer
Animals at Home
Bugs! Bugs! Bugs!
Dinosaur Dinners
Slinky Scaly Snakes
Water Everywhere
Animal Hospital
Winking, Blinking, Wiggling, & Waggling
Journey of a Pioneer
The Secret Life of Trees
60 Titles for Levels L, M, & N (6 each of 15 titles):
Eruption: The Story of Volcanoes
Astronauts Living in Space
Twisters
Fire Fighter
Journey of a Humpback Whale
Amazing Buildings
Titanic: the Disaster that Shocked the World
Spiders' Secrets
Bermuda Triangle
Shark Attack
Abraham Lincoln
George Washington
The Story of Anne Frank
Space Heroes: Amazing Astronauts
Plants Bite Back
60 Titles for Levels O, P, Q, & R (6 each of 15 titles):
Horse Heroes: True Stories of Amazing Horses
Days of the Knights
Snow Dogs! Races of the North
Extreme Machines
Atlantis: The Lost City?
First Flight: The Story of the Wright Brothers
Pirates! Raiders of the High Seas
Danger on the Mountain: Scaling the World's Highest Peaks
Volcanoes and Other Natural Disasters
Secrets of the Mummies
Earthquakes
The Story of Muhammad Ali
Thomas Edison
Flying Ace: The Story of Amelia Earhart
Free at Last: the Story of Martin Luther King, Jr.
Price (before discount): $1,976.40