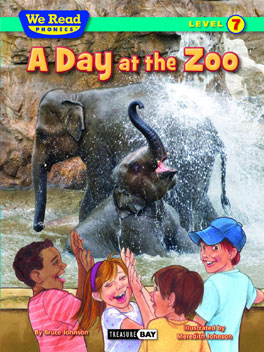 $5.99
A Day at the Zoo
Series: We Read Phonics
Paperback
Nonfiction
Guided Reading Level: G
Grade Level: 1 – 2
By Bruce Johnson
Illustrated by Meredith Johnson
Just open this book for a trip to the zoo, where you might see some scary reptiles, some odd birds, or some very strange insects. You might even get to feed and pet some of the animals! This nonfiction title offers lots of phonics fun and a highly appealing new art style that blends charming illustrations with photos of real animals.
We Read Phonics makes it easy for parents to help their children improve phonics skills and read a decodable story. Each book combines a fun story with simple games for phonics and sight words. The games are quick and easy to play – designed to help children read the story and improve their decoding skills. The result is faster reading development and kids who love to read!
We Read Phonics Level: 7 (Grade 1-2)
Guided Reading Level: G
Published by Treasure Bay, Inc.
Price (before discount): $5.99