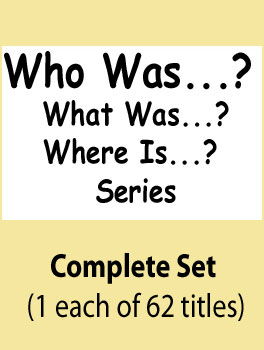 $433.38
Who Was…? What Was? Where Is? Collection – Paperback (62 titles)
Paperback
Nonfiction
Guided Reading Levels: O to U
Grade Levels: 3 – 6
Who Was…? What Was…? Where Is…? Collection– Levels O to U in Paperback for Grades 3 – 6. One each of 62 titles.
The Who Was. . .? series will excite your students about history through fascinating biographies of important historical figures from many fields, including science, sports, government, literature, and civil rights. Each book provides some historical perspective about the era, as it relates the story of the person's life and how he or she overcame adversity to accomplish something of enduring significance.
The Who Was. . .? books in this collection are complemented with books from two companion series, Where Is. . .? and What Was. . .?, which detail famous landmarks and key events in history. Each book in this collection features 112 pages with black-and-white illustrations on almost every spread. Our exclusive collection has been curated to include the most popular figures and topics, as well as a diversity of ethnicities and backgrounds.
Stickered with Guided Reading Level!
Each book comes stickered on the back with the
Guided Reading Level, making it easy to select
appropriate books for each student's reading skill.