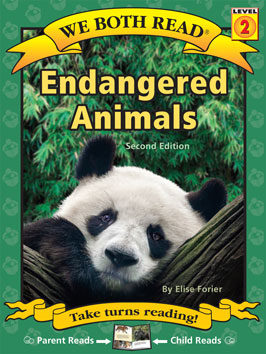 $5.99
Endangered Animals (New Edition)
Series: We Both Read
Paperback
Nonfiction
Guided Reading Level: L
Grade Level: 2 – 3
by Elise Forier
This book takes a close look at various animals from around the world that are in danger of becoming extinct. It discusses how the animals have become endangered by worldwide threats including pollution, deforestation and global warming. Featuring stunning photographs of many endangered animals in their natural habitats, the book also relates some of the positive steps being taken to protect the animals and explains how we can all take part in saving them.
We Both Read Level: 2 (Grade 2); Guided Reading Level: L
Published by Treasure Bay, Inc.
Price (before discount): $5.99