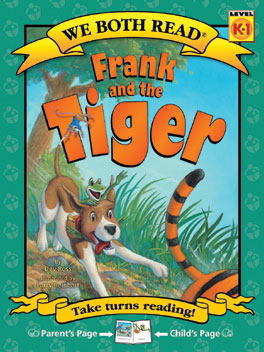 $5.99
Frank and the Tiger
Series: We Both Read
Paperback
Fiction
Guided Reading Level: B
Grade Level: K – 1
by Dev Ross
Frank the frog and Mikey the mouse are off on another fun-filled adventure! This time they are pretending to explore the jungle when they come upon what looks like a real tiger. Suddenly, the tiger is snatched up and carried off in the jaws of another animal! Mikey just wants to run away, but Frank persuades his friend to jump onboard for a wild ride to rescue the tiger!
We Both Read Level: K-1 (Grade K-1); Guided Reading Level: B
Published by Treasure Bay, Inc.
Price (before discount): $5.99