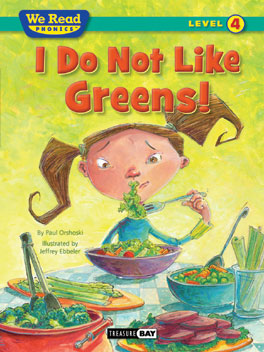 $5.99
I Do Not Like Greens!
Series: We Read Phonics
Paperback
Fiction
Guided Reading Level: D
Grade Level: K – 2
By Paul Orshoski
Illustrated by Jeffrey Ebbeler
Greens, greens, and more greens! Dad likes to cook, but he will only cook healthy food. What if you want some sweet and fatty junk food? Well, junk food is okay – if you are Dad's dog. But for his little girl, Dad only serves greens and other foods that are good for her. What's a girl to do?
We Read Phonics makes it easy for parents to help their children improve phonics skills and read a decodable story. Each book combines a fun story with simple games for phonics and sight words. The games are quick and easy to play – designed to help children read the story and improve their decoding skills. The result is faster reading development and kids who love to read!
We Read Phonics Level: 4 (Grades 1-2)
150 -210 word count – adds long "e", "o", and "u"
Guided Reading Level: D
Published by Treasure Bay, Inc.
Price (before discount): $5.99