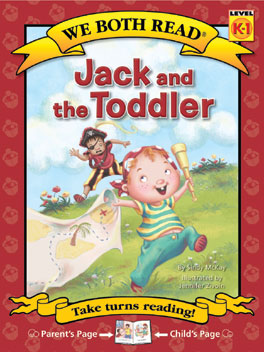 $5.99
Jack and the Toddler
Series: We Both Read
Paperback
Fiction
Guided Reading Level: C
Grade Level: K – 1
By Sindy McKay
Illustrated by Jennifer Zivoin
Jack is excited that another boy is coming over to play. Then he finds out the other boy is a little toddler – a baby! Jack imagines doing all sorts of wild and fun things with the toddler, but his mother tells him why each one isn't such a good idea. When the little boy arrives, Jack is glum. But in the end, he discovers that, with a few adjustments, playing together can be safe for the toddler and a lot of fun for both.
We Both Read Level: K-1
Guided Reading Level: C
Published by Treasure Bay, Inc.
Price (before discount): $5.99