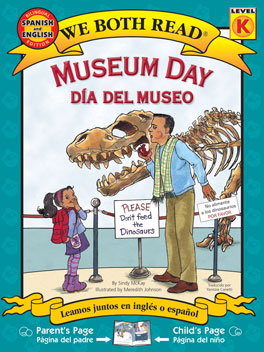 $5.99
Museum Day / Dia del museo (Spanish/English Bilingual)
Series: We Both Read – Spa/Eng Bilingual
Paperback
Fiction
Guided Reading Level: A
Grade Level: K
By Sindy McKay
Illustrated by Meredith Johnson
We Both Read Bilingual Edition (Spanish and English)
This book follows a young girl and her dad as they spend a fun-filled day exploring all the fascinating exhibits in a museum. Along the way, a little bird adds some delightful humor as it manages to get into the museum and follows the girl and her dad through the exhibits.
We Both Read Level: K (Grades K)
Guided Reading Level: A
Published by Treasure Bay, Inc.
Price (before discount): $5.99