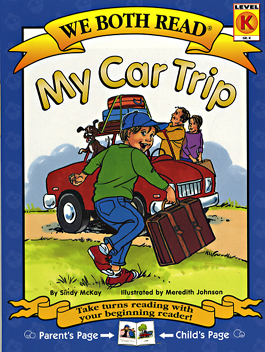 $5.99
My Car Trip
Series: We Both Read
Paperback
Fiction
Guided Reading Level: A
Grade Level: PK – K
by Sindy McKay
illustrated by Meredith Johnson
This is the perfect book to encourage even pre-readers to try reading. The rhyming patterns in the story, as well as the simple words and pictures on the child's pages, make it very easy for children to participate. The simple, but delightful story is about a young boy's trip with his parents to visit his grandfather, who owns a small general store out in the countryside.
We Both Read Level: K (Grade K); Guided Reading Level: A
Published by Treasure Bay, Inc.
Price (before discount): $5.99