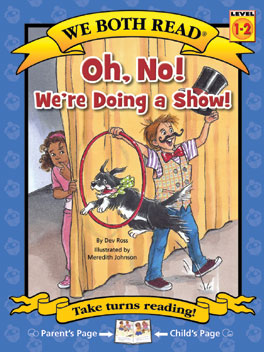 $5.99
Oh, No! We're Doing a Show!
Series: We Both Read
Paperback
Fiction
Guided Reading Level: H
Grade Level: 1 – 2
By Dev Ross
Illustrated by Meredith Johnson
In this We Both Read title, Mrs. Carson's class is putting on a talent show. Doing something fun on stage has all of her students excited – all except one. Keesha is scared of being in front of people, but she doesn't want to tell her teacher. After Keesha finally admits her fears, her teacher helps her find an exciting way to participate in the show that is perfect for Keesha.
We Both Read Level: 1-2
Guided Reading Level: H
Published by Treasure Bay, Inc.
Price (before discount): $5.99