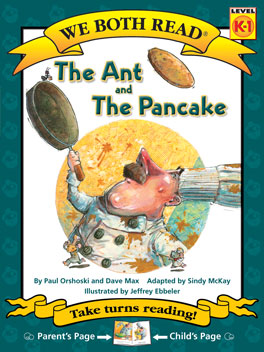 $5.99
The Ant and The Pancake (2 stories)
Series: We Both Read
Paperback
Fiction
Guided Reading Level: C
Grade Level: K – 1
By Paul Orshoski and Dave Max
Adapted by Sindy McKay
Illustrated by Jeffrey Ebbeler
This title combines two stories in one book!
The first story (The Ant) follows the adventures of a little ant that gets into a pair of pants and causes a lot of craziness.
In the second story (The Pancake), a wild chef and a couple of mice have fun making yummy pancakes.
Both stories offer lots of laughs and are sure to appeal to readers of all ages.
Guided Reading Level: C
44 pages in full color
Not available in hardcover
Price (before discount): $5.99