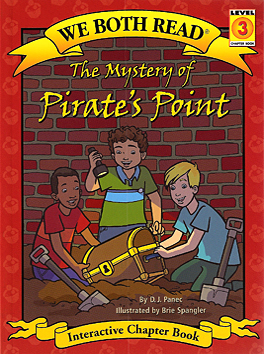 $5.99
The Mystery of Pirate's Point
Series: We Both Read
Paperback
Fiction
Guided Reading Level: N, P
Grade Level: 3 – 5
by D.J. Panec
illustrated by Brie Spangler
The race is on! It's the annual swim competition and it looks like the boy's team is going to lose to the girl's team again! The boys think some girls stole their mascot, Lucky. Without their mascot, the boys are convinced they will never win. Now, it's up to Sam and his friends to solve the mystery. If they can find Lucky, maybe they can also solve the old mystery of Pirate's Point!
We Both Read Level:3 (Grade 3 to 5); Guided Reading Levels: P (Reader 1), N (Reader 2)
Published by Treasure Bay, Inc.
Price (before discount): $5.99