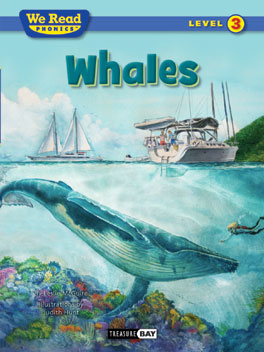 $5.99
Whales
Series: We Read Phonics
Paperback
Nonfiction
Guided Reading Level: C
Grade Level: K – 1
By Leslie McGuire
Illustrated by Judith Hunt
Get a glimpse into the lives of some of the biggest animals on earth! Features beautiful photography and illustrations of many different kinds of whales.
We Read Phonics makes it easy for parents to help their children improve phonics skills and read a decodable story. Each book combines a fun story with simple games for phonics and sight words. The games are quick and easy to play – designed to help children read the story and improve their decoding skills. The result is faster reading development and kids who love to read!
We Read Phonics Level: 3 (Grades K-1)
120-140 word count – adds long vowels "a" and "i" with silent "e"
Guided Reading Level: C
Published by Treasure Bay, Inc.
Price (before discount): $5.99