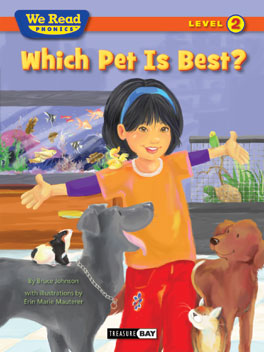 $5.99
Which Pet Is Best?
Series: We Read Phonics
Paperback
Fiction
Guided Reading Level: B
Grade Level: K – 1
By Bruce Johnson
Illustrated by Erin Marie Mauterer
Join a young girl on an amusing trip through a pet shop. Choosing a pet can be really hard. Some are cute, most are fun and all of them are so interesting!
We Read Phonics makes it easy for parents to help their children improve phonics skills and read a decodable story. Each book combines a fun story with simple games for phonics and sight words. The games are quick and easy to play – designed to help children read the story and improve their decoding skills. The result is faster reading development and kids who love to read!
We Read Phonics Level: 2 (Grades K-1)
90-110 word count – adds short "e", short "o", and short "u"
Guided Reading Level: B
Published by Treasure Bay, Inc.
Price (before discount): $5.99