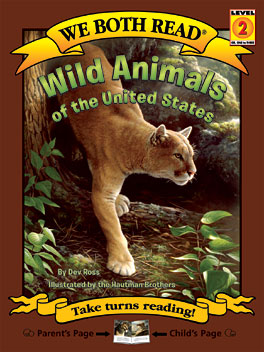 $5.99
Wild Animals of the United States
Series: We Both Read
Paperback
Nonfiction
Guided Reading Level: J
Grade Level: 2 – 3
By Dev Ross
illustrated by The Hautman Brothers
Featuring stunning art by the Hautman Brothers, this title provides a wonderful window into the beauty of the American wilderness and wildlife. Readers will learn about native animals and their habitats, including bears, moose, mountain lions, eagles, and many more.
The Hautman Brothers are among the most famous artists of American wildlife. In addition to being featured on over 45 stamps, their artwork has been shown in the White House and is now part of the permanent collection at the Smithsonian Museum in Washington, D.C.
We Both Read Level: 2 (Grade 2); Guided Reading Level: J
Published by Treasure Bay, Inc.
Price (before discount): $5.99