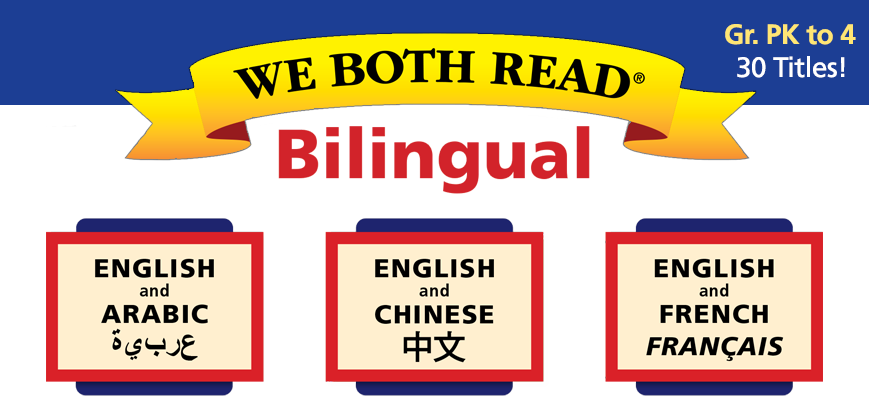 Our We Both Read books are now available in bilingual editions for Chinese/English, Arabic/English, and French/English. Like our Spanish/English editions, these new bilingual editions feature the same "take-turns reading" format as the English editions. On each page, the text is in two languages, so parents and students can read in either language. This makes the books perfect for use in homes where English is not the primary language.
With text in two languages, both parents and students can increase their vocabulary and reading skills in either language. The books are also ideal for use in school to support English-language learners, as well as students in bilingual and foreign-language programs.
Shop Now for We Both Read Sets in Arabic/English, Chinese/English, and French/English
Learn About – Bilingual Editions for Spanish/English
Prices:
Not available by individual title.
Book Specifications: Paperback • Trim size: 6.75" x 9" • 44 pages in full color • Smyth-sewn
These bilingual editions are in sets of 10 titles for each language, with levels for students from Pre-K through middle elementary (English guided-reading levels from AA to L). Titles in each set are: About Dogs (nonfiction), About Space (nonfiction), Dragons Do Not Share, Endangered Animals (nonfiction), Habitats of the World (nonfiction), How Many (nonfiction), The Ocean (nonfiction), Three Little Pigs, Too Many Cats, and The Well-Mannered Monster.
Shop Now for We Both Read Sets in Arabic/English, Chinese/English, and French/English