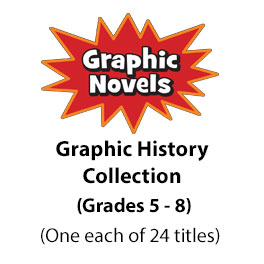 $194.40
Graphic History Collection (Grades 5-8) (24 titles)
1 each of 24 titles
Graphic History

– nonfiction titles – Featuring inspiring people and important events in U.S. history!
Grade Levels: 5-8
Nonfiction
Paperback
The graphic format of the books helps to increase comprehension of the text, and the visuals offer contextual clues that boost vocabulary skills. The result is an enjoyable and successful reading experience and enhanced reading skills.  
Price (before discount): $194.40
Not available by individual title.