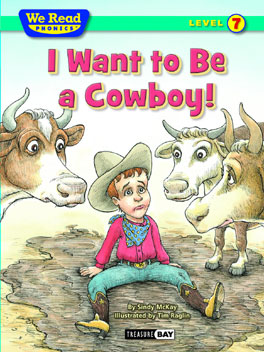 $5.99
I Want to Be a Cowboy!
Series: We Read Phonics
Paperback
Fiction
Guided Reading Level: G
Grade Level: 1 – 2
By Sindy McKay
Illustrated by Tim Raglin
Roy has a cowboy hat. He has cowboy boots. Now Roy wants to be a real cowboy! He goes to a dude ranch, where he can do lots of cowboy things. But at the ranch, Roy finds out that being a real cowboy is much harder than he expected. This delightful title offers enjoyable phonics practice and fun phonics games to play together.
We Read Phonics makes it easy for parents to help their children improve phonics skills and read a decodable story. Each book combines a fun story with simple games for phonics and sight words. The games are quick and easy to play – designed to help children read the story and improve their decoding skills. The result is faster reading development and kids who love to read!
We Read Phonics Level: 7 (Grade 1-2)
Guided Reading Level: G
Published by Treasure Bay, Inc.
Price (before discount): $5.99