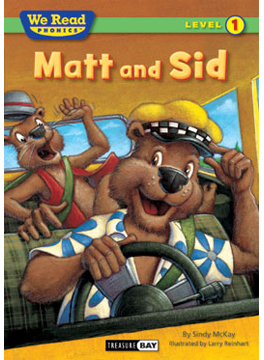 $5.99
Matt and Sid
Series: We Read Phonics
Paperback
Fiction
Guided Reading Level: A
Grade Level: K
By Sindy McKay
Illustrated by Larry Reinhart
Sid jumps into Matt's cab. Sid is in a big hurry, but Matt is too slow! Fortunately, all ends well in this very humorous story of an exciting ride in a cab.
We Read Phonics makes it easy for parents to help their children improve phonics skills and read a decodable story. Each book combines a fun story with simple games for phonics and sight words. The games are quick and easy to play – designed to help children read the story and improve their decoding skills. The result is faster reading development and kids who love to read!
We Read Phonics Level: 1 (Grades K-1)
60-80 word count – focuses on short "a" and short "i"
Guided Reading Level: A
Published by Treasure Bay, Inc.
Price (before discount): $5.99