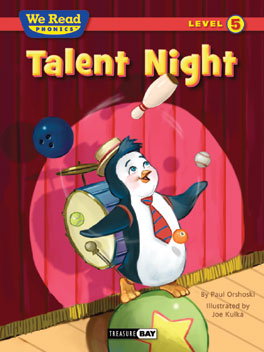 $5.99
Talent Night
Series: We Read Phonics
Paperback
Fiction
Guided Reading Level: E
Grade Level: K – 1
By Paul Orshoski
Illustrated by Joe Kulka
A young penguin is sure he will win the talent contest. He does the most amazing things! He has them laughing! He has them gasping! No one could do better! No one, that is, except shy little Pam.
We Read Phonics makes it easy for parents to help their children improve phonics skills and read a decodable story. Each book combines a fun story with simple games for phonics and sight words. The games are quick and easy to play – designed to help children read the story and improve their decoding skills. The result is faster reading development and kids who love to read!
We Read Phonics Level: 5 (Grades 1-2)
220 -280 word count – adds long "a", "i", and suffixes -er and -ing
Guided Reading Level: E
Published by Treasure Bay, Inc.
Price (before discount): $5.99