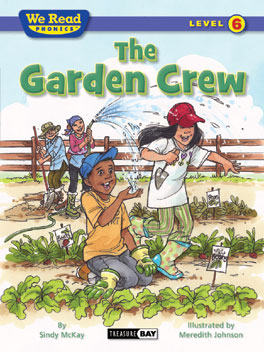 $5.99
The Garden Crew
Series: We Read Phonics
Paperback
Nonfiction
Guided Reading Level: F
Grade Level: 1 – 2
By Sindy McKay
Illustrated by Meredith Johnson
A group of students calls themselves "The Garden Crew." With the help of their teacher, they plant and tend a garden and finally have a big feast with all the food they have grown. Along the way, they learn that taking care of a garden can be a lot of work, but it can also be a lot of fun!
We Read Phonics makes it easy for parents to help their children improve phonics skills and read a decodable story. Each book combines a fun story with simple games for phonics and sight words. The games are quick and easy to play – designed to help children read the story and improve their decoding skills. The result is faster reading development and kids who love to read!
We Read Phonics Level: 6 (Grade 1-2)
Guided Reading Level: F
Published by Treasure Bay, Inc.
Price (before discount): $5.99