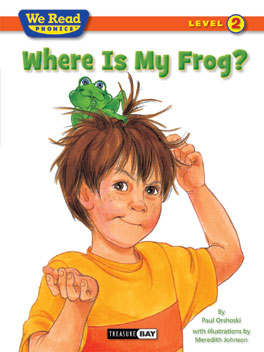 $5.99
Where Is My Frog?
Series: We Read Phonics
Paperback
Fiction
Guided Reading Level: B
Grade Level: K – 1
By Paul Orshoski
Illustrated by Meredith Johnson
A pet frog is on the loose, creating havoc wherever he hops! This story offers non-stop fun and excitement, as a boy chases the frog from one crazy mishap to the next.
We Read Phonics makes it easy for parents to help their children improve phonics skills and read a decodable story. Each book combines a fun story with simple games for phonics and sight words. The games are quick and easy to play – designed to help children read the story and improve their decoding skills. The result is faster reading development and kids who love to read!
We Read Phonics Level: 2 (Grades K-1)
90-110 word count – adds short "e", short "o", and short "u"
Guided Reading Level: B
Published by Treasure Bay, Inc.
Price (before discount): $5.99