---

Perfect for Family Literacy Nights and as an Online Resource for Parents
Everything you need for a great parent workshop is included! The CD-ROMs include the Presentations, the Handouts for the participants, and a comprehensive Presenter's Guide. Presentations are provided in PowerPoint, as well as PDF's (for overhead presentations).
Every workshop is available for you to present in User-Presentation Mode. Plus, the Reading Together workshop is available with an Auto-Play mode: simply start the PowerPoint and it will play through the entire presentation, including professional audio and video. Nothing could be easier! You can even post the presentation on your website as an additional parent resource.
All workshops can be easily tailored to your audience and desired length of time. And, while these workshops are primarily designed for parents, they can also be great workshops for classroom teachers and literacy tutors!
Research-based and developed with reading specialists, Bruce Johnson, M.Ed., and Dorothy Taguchi, Ph.D.
Set of 3 Parent Workshop Presentations on CD-ROM
Price (before discount): $149.85 (Set #: TR-3) (purchase includes license for one school to present and modify the workshops)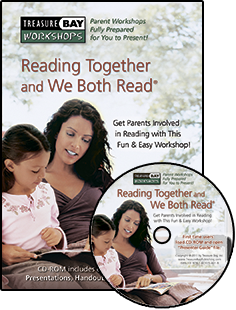 Reading Together
and
We Both Read®


These two mini-workshops (30 to 45 minutes each) will motivate parents to get more involved in reading with their children and teach them skills they can use to maximize the benefits of reading together.
The first workshop covers best practices in reading together. Parents will learn why reading together is important, three styles of reading together (choral reading, echo reading, and shared reading), skills to use when reading to their child, and skills to use when their child is reading to them.
The second workshop covers books specifically designed for reading together, focusing primarily on use of the We Both Read series. This section includes information on how to maximize the benefits of using We Both Read and offers parents an opportunity to practice using the books.
Purchase of this CD-ROM includes a school-wide site license to modify and present the workshops.
SHOP NOW for Parent Workshops.
View a Sample PDF of the slides and handouts for the Reading Together and We Both Read workshops.

Starting Off Right with
Phonemic Awareness
and Phonics

For presentations to parents, there are two mini-workshops included, one focusing on phonemic awareness and one focusing on phonics skills (Length: 1 to 2 hours each). A longer and more comprehensive version, combining both workshops (total 4-6 hours), is included for presentation to classroom teachers and teachers' aides.
The phonemic awareness presentation focuses on verbal games and activities parents can do to help prepare their children for reading. Parents will learn how to help their child develop the ability to hear, identify, segment, and blend the individual sounds in spoken words.
The phonics presentation focuses on the relationship between sounds and letters and how to blend letter sounds together to decode written words. Parents will learn simple games and activities they can do anytime with their child to reinforce phonics skills in reading.
Purchase of this CD-ROM includes a district-wide license to modify and present the included workshops.
SHOP NOW for the Phonemic Awareness and Phonics workshop.
View a Sample PDF of the slides and handouts for the Phonemic Awareness and Phonics workshop.

Helping Your Child
Get Ready to Read
This workshop is designed to let parents know what they can do to help their children be better prepared for reading instruction. An ideal time to present this workshop is in the first half of kindergarten or before formal reading instruction begins.
The first section of the workshop focuses on reading to your child, as well as fun activities to do with your child to help develop phonemic awareness. The workshop not only shows how important it is to read to your child but also covers how parents can maximize the benefits for their child.
The second section of the workshop includes fun activities to help your child learn the names and sounds of the letters in the alphabet. It also includes how parents can begin to introduce reading together activities, even with children who are prereaders.
Each section of the workshop can be presented in about 30 minutes. Please note that much of the material in this workshop is covered in the other two workshops above. However, this workshop is tailored specifically to parents of prereaders.
Purchase of this CD-ROM includes a school-wide site license to modify and present the workshops.
SHOP NOW for the Helping Your Child Get Ready to Read workshop.
View a Sample PDF of the slides and handouts for the Helping Your Child Get Ready to Read workshop.
---
We Both Read
Audio Books
Eight of the most popular We Both Read books are now available on audio CDs!
These audio books can be particularly helpful for ELL/ESL students, as well as for any students who are using the printed books without a parent, tutor, or reading buddy. Students can listen and follow along as the entire book is read to them, or they can listen to the left-hand pages (which have text at a higher reading level) and then pause the audio to explore reading the right-hand pages (which have text at their reading level).
Pricing: $9.95 each
Audio Books are also available as a complete set, and as a set with matching paperbacks.
SHOP NOW for the Audiobook CDs.
---

Interactive E-Book Software Editions
Our Interactive E-Book Editions will delight beginning readers as they help reinforce reading skills. On each page, users can choose to read the text themselves or have an audio recording of the text read to them. When audio is played, the text is highlighted in sync with the recording, helping young readers to follow along and learn new words.
Each illustration in these E-Books also offers the opportunity for interactive fun and learning. And each E-Book includes bonus reading games to further reinforce many of the words and skills used in reading each book.
The software can be used alone, with buddy readers, or on an interactive whiteboard with an entire class. Due to the audio feature, these E-Books can be used by students with a wide range of reading abilities, but they can be particularly helpful for beginning readers, struggling readers, and ESL/ELL students.
Interactive E-Book Pricing:
$159.60 for all 4 titles with a School-to-Home Connection License (which includes 2 year online access for teachers, students and parents at one school, as well as each title on CD-ROM and the right to transfer the E-Books onto all computers at that school)
SHOP NOW for Interactive E-Books.
| | | | |
| --- | --- | --- | --- |
| Amazing Eggs | Ant in Her Pants | Where Is My Frog? | My Day |
---
PDF E-Book Editions for Your iPads and Computers!
These PDF E-Books are perfect for use at home and at school! They are not interactive; instead, they are designed to replicate the look and experience of reading a full-color printed book. To use these PDF E-Books on your iPads, simply download the free Adobe Reader or PDF Reader app from Apple's iTunes store. These full-color E-Books are also ideal to read on your electronic whiteboards and computers.

SHOP NOW for PDF E-Book Collections.
View Samples for PDF E-Book Collections.
Both We Both Read and We Read Phonics books are now available as PDF E-Book Editions on CD-ROM. Each CD-ROM contains PDFs for three complete books. These PDF E-Books are also now available online with our School-to-Home Connection license, which allows parents to read all these books with students at home.
There are four CD-ROMs with a total of twelve titles from the We Both Read series in PDF format. The twelve titles represent some of our most popular books and include a mix of both fiction and nonfiction.
There are seven CD-ROMs with all twenty-one titles from the We Read Phonics series. The CD-ROMs for We Read Phonics also include separate phonics and sight word games for each title in an easy, printable format. Plus, the CD-ROMs include discussion questions for each title to ask students before and after reading.
PDF E-Book Pricing:
$239.60 for 12 We Both Read PDF E-Books with a School-to-Home Connection License (which includes 2 year online access for teachers, students and parents at one school, as well as the 12 titles on 4 CD-ROMs and the right to transfer the e-books onto all computers at that school) (Set #: WB-PDF-12)
$419.30 for a set of all 21 We Read Phonics PDF E-Books with a School-to-Home Connection License (which includes 2 year online access for teachers, students and parents at one school, as well as all 21 titles on 7 CD-ROMs and the right to transfer the E-Books onto all computers at that school) (Set #: WU-PDF-21)
$658.90 for 33 We Read Phonics and We Both Read PDF E-Books with a School-to-Home Connection License (which includes a license to provide perpetual online access for teachers, students and parents at one school, as well as the 33 titles on 11 CD-ROMs and the right to transfer the e-books onto all computers at that school) (Set #: EB-33)