Excite your students about reading
with fiction and nonfiction interactive "path" books!
The Choose Your Own Adventure series has a long history of engaging reluctant readers. In each book, there are many choices for readers to make that take the storyline in different directions and to different endings. The books are perfect for parents and children to read together, as they laugh and discuss which paths would be the best ones to take. And with many different paths and endings, your students will want to read each book again and again.
Each You Choose nonfiction title brings to life an era or event in history. The format of the books creates a powerful experience for readers, as they face the challenges and decisions that people encountered at pivotal moments in history. The intense action and difficult choices of what path to take will rivet readers from grades 3 to 8. Even reluctant readers will be caught up in history and learn more than they realize about events that have helped to shape the world we live in today.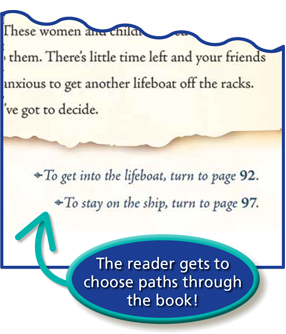 Prices:
Not available by individual title. If a title in a set is out of stock, we will substitute a title with a similar reading level.
Book Specifications: Paperback; 64 to 144 pages in color or B&W
Choose Your Own Adventure


36 Fiction Titles

12 Titles for Gr. 2-3
Lost Dog!
The Haunted House
The Lake Monster Mystery
Princess Island
Your Very Own Robot Goes
Cuckoo Bananas
Your Grandparents are
Zombies!
Space Pup
Your Very Own Robot
Gus Vs. the Robot King
Sand Castle
Your Grandparents Are
Spies
Ghost Island
24 Titles for Gr. 3-5
Mystery of the Maya
Escape
Lost on the Amazon
Trouble on Planet Earth
The Abominable Snowman
24 Titles for Gr. 3-5
(continued)
Journey Under the Sea
Space and Beyond
The Lost Jewels of Nabooti
House of Danger
Race Forever
Prisoner of the Ant People
War with the Evil Power
Master
Silver Wings
Beyond Escape!
Secret of the Ninja
The Brilliant Dr. Wogan
Return to Atlantis
Struggle Down Under
Terror on the Titanic
Moon Quest
The Magic of the Unicorn
Surf Monkeys
By Balloon to the Sahara
Smoke Jumpers
You Choose


36 Nonfiction Titles

18 Titles for Gr. 3-6
Race to the Moon
Sinking of the Lusitania
Vietnam War
The Berlin Wall
Child Labor Reform
Movement
Ellis Island
Korean War
Ancient Egypt
Aztec Empire
World War II Infantrymen
Boston Massacre
California Gold Rush
Dust Bowl
Titanic
Underground Railroad
World War II Pilots
World War II Spies
Ancient China
Colonial America
18 Titles for Gr. 4-8
Exploring the New World
Great Depression
Orphan Trains
Salem Witch Trials
World War I
Attack on Pearl Harbor
Civil War
World War II Naval Forces
World War II
Civil Rights Movement
Middle Ages
Revolutionary War
Westward Expansion
Spies of the American
Revolution
Battle in the Revolutionary
War
Battle of the Alamo
Spies of the Civil War